More Songs About Animals and Food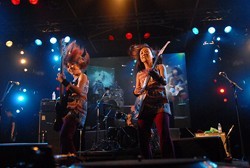 It's unusual for an act not scheduled to play Fuji Rock proper would deign to play the pre-festival party, especially a band who's slated to appear at a number of other summer festivals, including Fuji's main competitor, Summer Sonic (well, at least the Osaka end). But Shonen Knife was just the ticket, and if they didn't deliver the knock-out punch that openers Flogging Molly did with their Irish uppercut, their songs about cute animals, junk food, rockets, and twisting Barbies reminded everyone that they were still in the land of Hello Kitty and cartoon manju--and are we glad!

Perhaps the surprise visit was a chance to break in the new bass player prior to the paid gigs. With Michie Yamada gone, having married an American last spring and reportedly now moved to California, that leaves sister Naoko the sole remaining founding member, but twenty-five years down the line Ms. Yamada can still swing that hair, and as she proved on the closing number, "Big Cat," her power chords are as strong as ever.

It was a classic Shonen Knife set--fast, tight, lazily choreographed, and filled with ridiculously good cheer. Getting the crowd to sing along with "Rubber Band" was no problem at all, and "Ride the Rocket" produced the first crowd surfing of the weekend, but I missed their usual closer, "Mongoose vs. Snake." with its wild chorus of "fight, fight." Are there snakes in Naeba?