Skating Around with Tommy G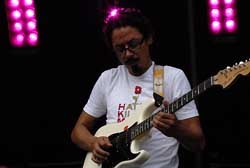 An audience packed the White Stage this afternoon to witness Northern Californian native, Tommy Guerero, bring his unique style of music to the local crowd.
Defying categories, Tommy G, played a range of free jazz, funk, and rock and roll. In fact, he felt equally confident switching between musical genres, at one point telling the audience he was playing "some good old motherf*(&* rock and roll."
The early part of his set was characterized by cat calls, a duck walk, and some guitar grooving that would have done Carlos Santana proud. Later, Tommy moved to his back catalogue, playing songs from the album "Year of the Monkey" including a hard rocking song which he described as being attributed to his younger days when he "skated around".
Many know Tommy G from his earlier days when skateboarding was his main interest, winning Norcal skate tournaments as early as 1984, and later joining the Bones Brigade, and seminal skate flicks such as "The Search for Animal Chin".