Big Willie's Burlesque at Orange Court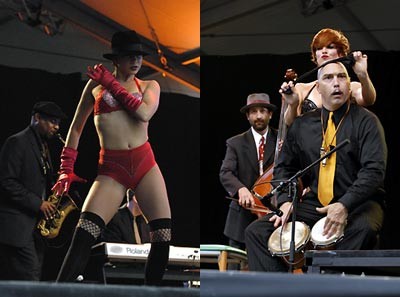 Bad girls 'n' chill jazz...
As soon as Big Willie walked on stage the crowd started clapping. I suppose that most of those present had seen his show last year and had come back for more. And Willie had obviously taken the time between visits to Japan to learn a little Japanese. "Minna genki desu ka?" brought a roar of approval from the crowd. And once they'd settled down again he said, this time in English, "We're gonna play some jazz now." And they did - as smooth and gentle as a summer breeze and just as refreshing as the rain which pounded down a couple of times during the show.
And just when I thought it might be a straight up musical set sans burlesque - mostly because there was no pole for the dancer - a chair was brought out and placed on stage and garter belt clad bombshell started to gyrate in time to a slow and sexy number. What she couldn't do with chair wouldn't be worth watching. She was hot.
Then the band launched into an equally slow and sweet rendition of La Vie En Rose, but 20 seconds into it suddenly Willie broke out a bongo and the band pumped up the rhythm to a feverish Afro-Cuban pitch. And, man, could this chick wiggle 'n' jiggle - especially for her finale with nothing but some tinsel pasties covering her breasts.
Next up were another couple of songs from the band alone - namely, the jazz classic "Old Devil Moon," which had a little tongue-in-cheek cha-cha-cha thrown into the mix, and a jazzed out cover of the Beatles "Lady Madonna." Then out came the dancer again, but this time with a partner - an equally saucy naughty girl. They wore iridescent wigs - one pink one blue - and similarly colored tights and silk gloves. Together they shimmied and shook their way through "Shame on You" and played with Willie - even at one point managing to get his trousers down around his knees. But, as always, Willie and the band simply played on.
Someone in the audience was making bubbles. The dancers were hot but the music way chill. Everyone was smiling as bubbles burst overhead and swayed to groove...
Report by sisterchill