Benevento Russo Duo in the Field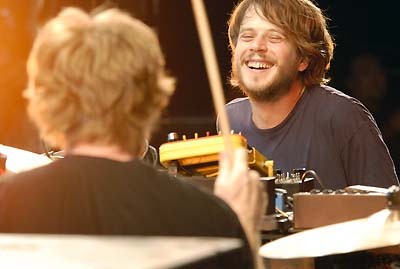 The Field of Heaven shimmers on Saturday afternoon, rain or shine. The Benevento Russo Duo brought ethereal music to complement the rain showers streaming down.
Just Joe Russo on drums and Marco Benevento on keyboards, the two New York-based musicians put out an improvish noise-inflected sound. On "Soba" ("Our favorite Japanese noodle ... and friend," says Benevento), Russo hits his drum to pad to activate a two tone steel drum beat to play over. Benevento's organ sounds like a guitar and probes through rhythms before a brief intermission that's disturbed by a clipped coda.
The audience is fairly packed and Benevento says "We've been playing a lot of shows recently and this is by far the best one." They slip into a final '70s space rock adventure and the Field shimmers on.