This Just In: Strange Sightings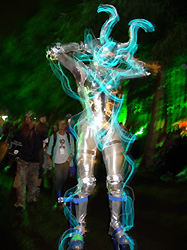 It has been reported that a pair of strange, tall and eerily sexy creatures were seen roaming the Oasis area posing for pictures and picking up unsuspecting Japanese college students and shaking them in what was seen as an act of affection.
Over two meters tall, these creatures walk on stilts and seem to have glowing skin, which may be radioactive. Interaction with these beings is encouraged, but approach with caution − you don't know where those antennae have been.