Milburn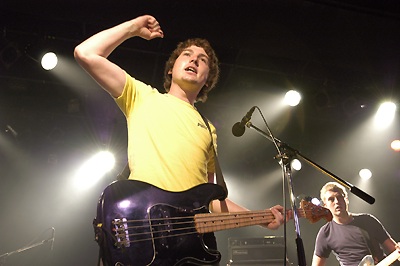 Milburn differ from your typical Britpop bands a little. I was trying to put my finger on it as they played, and it took me a while
Milburn differ from your typical Britpop bands a little. I was trying to put my finger on it as they played, and it took me a while. All of their tracks are driven by nice funky basslines. Maybe it has something to do with the guys themselves: on stage today in their polo shirts and slaks, they looked nice enough to take home to meet your mum for a cuppa, and showed that they were funky enough to cut it with the big guys recently. Taking to the stage in the Red Marquee at 11:30 on Sunday morning, they drew a good sized crowd of early FujiRockers.
Joe Carnall on bass and lead vocals drives the group, He was interacting with the crowd throughout, getting a good response. Guitarists Louis Carnall (rythm) and Tom Rowley (lead) flanked him, and the three stood evenly spaced like a lineup in front of drummer Joe Green. It didn't take long to get into their more popular tracks, with "December" and "Cheshire Cat Smile" appearing early in the set. Each track starts with a good groove Jaid down by Joe and builds on this from there. There are short guitar solos from Louis in most every song, who remained fairly steadily planted for most of the set. Bass solos appear too, Joe not to be outdone by his sibling. Loud, rocking choruses with guitars punctuating the lyrics are the order of the day here, good thrashing tunes by the end.
Carnall egged the audience on a little, with them responding well. He was strutting around the stage at times, while the other two guitarists stayed firmly on the one spot. It appears as if their energy was spent on the frenetic songs they were playing, and none left over for showmanship. No matter, their playing was more than enough. They rounded out their performance with "The book that you're reading's upside down" (that's "oopside" in my finest Yorkie accent) which had those gathered grooving with the band. These guys showed us today that you need not have an album to draw a good appreciative group to see you perform at FujiRock.

Milburn's debut album will be released on Sept 25.

Report by Dom.