Snow Patrol: Light duty in the mountains of Naeba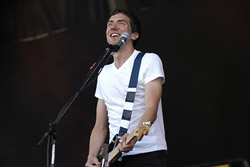 When semi-Scottish group Snow Patrol took to the Green Stage here on Sunday afternoon, people were doing something they don't do very often at the Fuji Rock Festival--squinting into brilliant sunshine.
With the sun radiating down from behind the stage, it could be a little difficult to see the band, even with sunnies shading the eyes. Not that anybody was complaining, mind you. The crowd eagerly soaked up the sun's rays, as well as the smiles emanating from singer Gary Lightbody's face. Snow Patrol's straight ahead, not-too-soft, not-too-hard, guitar crunch sound was easy to get into, even if you could go blind looking directly at the stage.

As if the sun wasn't the best surprise of the day, we were treated to another one: Lightbody's delightful stab at Japanese. While most bands playing are content with an "Arigato", "Konnichi-wa Nippon!" or "Ohaiyo gozaimasu" (often with amusing results depending on the time of its utterance), Lightbody offered us "Boku-tachi wa Sunno Patororu desu" during a brief stop after their opening number--and earning him a 2006 Best Stab At Japanese Award from this reporter. This ramped up the already eager crowd a bit more before the band plunged headlong into another song from their newest album, Eyes Open.
After dedicating "Chasing Cars" to Yoshi, a young woman at the foot of the stage, the band moved on to some older material from Final Straw to much appreciation. Lightbody constantly smiled--a genuine and hearfelt beam coming from his face that was infectious and uplifting after so many grey gigs the day before. Everytime you looked at the big screens to the side of the stage, there was the singer/guitarist's face in a close-up. If he wasn't lost in singing, as if in a dream, or jumping around with his Telecaster; he was smiling that big smile.
It was hard to tell if people were stoned, or just hypnotized by all this great sunshine and music, but whatever it was--it sure felt good.
Jeff