Mogwai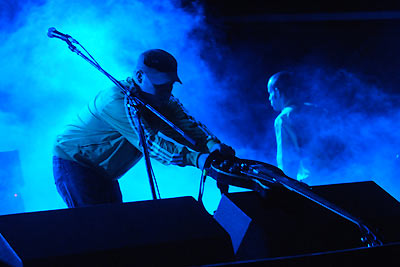 Mogwai was totally great, but what I couldn't figure out was why the stage left guitar tech was wearing an orc hat? I mean, he must have changed changed guitars at least a half dozen times, so what was with the horned Lancelot helmet? Did this have anything to do with the Super Furry Animals' Power Ranger? Are Scotland and Wales suddenly going cosplay?
The band itself came out decked in emerald green Adidas track jackets, and they closed out Sunday's White Stage with searing non-referential intensity, like the spiritual core the whole day's schedule was designed around. Stuart Braithewaite admitted as much, doling out props to the Super Furry Animals, who preceded them, and the stage's first two bands of the day, Isis and Envy (who, word is, they are helping to release in the UK). Super Furry's lead singer Gruff Rhys also came on to sing the first song of the encore, and if it was in Welsh, it was still the most intelligible lyrics of the set.
Not that the lyrics - when they occasionally sing them - are really there to be understood. And not that Mogwai are really on stage to make a visual impression. Like my yoga teacher said, "Close your eyes so you can feel it." (Note to myself: When does heavy swaying start and light headbanging begin?)
Few other bands are as consistent. At the end, a girl standing nearby called the show "beautiful." All that was missing was the fireworks - for anyone who remembers how they closed the White Stage in 2003!