Feist: One Tough Ticket To Get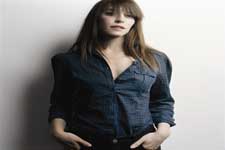 Feist's tour of North America was largely SOLD OUT with on-line ticket brokers charging as much as US$150 for two shows in San Francisco.
A performance at London's Scala on July 24 is also sold out, and the next Feist appearance in North America will be on August 29th at the McCarren Park Pool in New York City. This performance will accompany a special concert billed as Broken Social Scene performing Kevin Drew's "Spirit If...". Kind of confusing? Well sorta....
Kevin Drew, a founding member of Broken Social Scene recorded this album at home as a solo-project, but when it came time to go on the road, he invited the whole crew back, including Feist.
Feist performs at the Orange Court on Saturday at 17:50-18:50
official site
Myspace
Smashing Mag
Wikipedia
//sean s.