Bo Diddley RIPPPPPPING!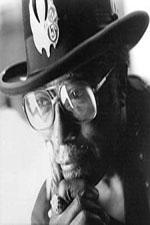 Bo Diddley has been described as the most copied guitarist in the world, with many ripping of his "hambone" beat or what Diddley described as a "shave and a haircut, two bits".
The most obvious example is Buddy Holly's "Not Fade Away", but for many, including myself, the first introduction to this distinctive beat came from the Jesus and Mary Chain who covered Diddley's "Who Do You Love" on their 12-inch "April Skies" in 1987, following up with the tribute "Bo Diddley is Jesus" the same year.
Another fan of this former bluesman is Bobby Gillespie of Primal Scream. He's covered Diddley's "Movin' on Up" and his newest album "Riot City Blues" has an unmistakable Bo Diddley beat throughout. Gillespie even talks about Diddley's influence upon the band in this NME interview
//sean s.