Looking East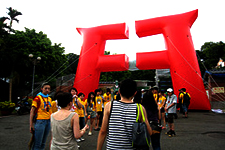 For the past 4 years, Taiwan's Formoz Festival has coordinated its artist bookings with Fuji Rock. Both festivals share the same weekend and cooperation has allowed organizers to share artist transportation costs. Artists who have done double duty at both festivals have included: Super Furry Animals, Dirty Pretty Things, Mercury Rev, and Moby.
This year, Formoz organizers were drooling at the prospects of bagging My Bloody Valentine as festival headliners. Negotiations proceeded well, but hit a snag when it came to appearance fees. According to Formoz staff, it was "impossible" for My Bloody Valentine to play for anything less than US$100,000. The fee was too high for Formoz who scrambled to fill the empty slot with Boom Boom Satellites, adding to an already heavy Japanese line-up which includes Mono, LM.C, Plastic Tree, Ovum, and Inoran.
And by the way, Fuji Rock may have been quite lucky to land My Bloody Valentine as this year's reunion tour includes just 18 stops with up to a week off between gigs.
//sean s.