Almost Full!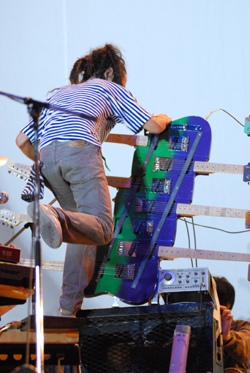 Another round of artists have been announced for Fuji Rock bringing the total number of performing acts to 202! The timetable has been released as well and from the looks of it, there are only two slots left to be filled. One is Sunday night on the Green Stage, the other on Mokudo Tei on Saturday afternoon.
Gypsy Avalon, Naeba Shokudo, and Mokudo Tei's (the boardwalk stage) lineups have been revealed and some bands have been added to other stages as well. New performers include UK alt-rockers The Zutons, Japanese hard rockers Wrench, J-punks Razor's Edge, Canadian Justin Nozuka, and Japanese psych-pop underground fave Tokumaru Shugo.
Personally, I'm really excited to check out a special 15-minute show from AEO that takes place late Sunday night (or early Monday morning if you want to get technical) at the Red Marquee. AEO is comprised of EYE from Boredoms, Sawai, and Jo. Wonder how the always entertaining and unpredictable EYE will top the wall of guitars that he played during Boredoms White Stage set last year!
Shawn
*Photo of EYE at Fuji Rock 2007 by Hoya and used with permission of Fuji Rock Express