Who when where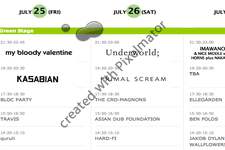 So the schedule's up and we can start crossing names off our to-see lists. Wanted to see Galactic and Kasabian on Friday? Now you're gonna have to choose. Interested in Mark Stewart and The Maffia, but want to see if Mani really does join Ian Brown at other end of the festival in the Red marquee? No chance.
But somehow this year seems a little more.... thought out? Bootsy fans that want some more funk have 50 minutes to stroll to the nearby Field of Heaven for modern day funkateers the New Mastersounds. The kind of people who never budge from the Orange Court all weekend will probably want to catch the trio from SOIL&"PIMP"SESSIONS - who are playinga few yards away, just as the OC goes quiet.
I'm still wondering: Lee Scratch Perry or The Go Team? But for the most part, what a great piece of scheduling.