FRF Upstarts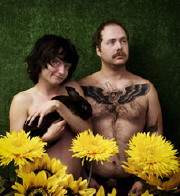 Since my last post spotlighted acts who've tasted Fujirock's sweet fruit and came back for seconds (or thirds, or fifths), I thought it appropriate to turn the focus on this year's first-timers, many of whom are relative newbies on the live scene.
There's quirky pop tart, Kate Nash, whose personal lyrics, casual delivery and Myspace ride to fame are cut from the same yellow taffeta dress cloth worn by Lilly Allen. Fellow Brits, the Courteneers, will be trying to avoid the kiss of death that an NME cover can bring, while beatnut/beatnik duo Dan Le Sac and Scroobius Pip, on the other hand, have nothing to loose but sleep (and X Factor)
From Paris, we have beats from DatA and party mixes from DJ Mehdi of the incredibly awesome Ed Banger label, who brought Justice to all last year.
From Australia we have the laptop pop of Gotye, the club jams of Midnight Juggernauts and the synth-laden spazz-rockers of the Death Set (seen above).
Acts like Austin Texas's SPOON and Mexico City's Rodrigo Y Gabriella are no rookies when it comes to playing in front of thousands, but this will mark the first time either have appeared at a festival in Japan. It won't be the last, I'm sure.
jinki