They get along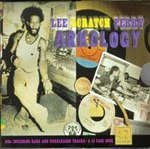 Lee "Scratch" Perry and ... Andrew W.K.?

Maybe Kele Okereke of Bloc Party and John Lydon of the Sex Pistols can't find racial harmony, but dub originator Lee "Scratch" Perry and "so-dumb-it's-smart" Andrew W.K. have a friend in Jesus. Pitchfork has a "One Week Only" video here that shows the two in the studio recording Lee's latest album. Apparently Lee is off the inspiration of any substances, including meat, but Uncle Jam is still preaching and drawing the visible/invisible art -- which might have something to do with pee. If you don't understand it all, don't worry there are subtitles.
Will Andrew W.K. show up with Lee on Sunday at the Field of Heaven? I have no idea. Or even any idea of what to think if he did: "I get dub"? "Dub hard"? "Dub till you puke"?
-- Donald