Kiyoshiro Imawano, 1951-2009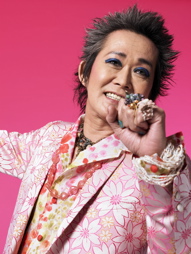 Former RC Succession leader and unofficial mayor of Fuji Rock, Kiyoshiro Imawano, died yesterday in a Tokyo hospital at the age of 58. Kiyoshiro was diagnosed with throat cancer in 2006 and reportedly opted out of surgery in order to save his voice. He underwent radiation treatments and seemed clear of the disease enough to launch a comeback in early 2008. This comeback was supposed to culminate in a headlining appearance at last summer's Fuji Rock, but only days before the festival started cancer was discovered in his pelvis and the appearance was cancelled. According to newspaper accounts, Kiyoshiro entered the hospital last Friday feeling ill and his condition quickly deteriorated.
Kiyoshiro performed at every Fuji Rock Festival from 1998 to 2005 except for 2003, and in many of those years he performed on more than one stage. With his painted nails, heavy mascara and fly-away hair, he was one of the most eccentric, not to mention eclectic, pop stars in Japanese music. He formed the legendary folk-rock group RC Succession in high school in the early 70s, and his subsequent solo career embraced every style of music, from blues to hard rock to soul. In fact, he once toured with Booker T and the MGs, which is bittersweetly ironic since Booker T (without the MGs) will be playing this year's Fuji Rock for the first time. In addition, the Blues Brothers Band, which is headed by former MG Steve Cropper, and which was the last foreign group that Kiyoshiro sang with after his cancer diagnosis, is returning to Japan for a tour this summer. Expect a lot of heartfelt tributes to Kiyoshiro at this summer's blowout. He will be missed.
-Phil