The Kids Are Alright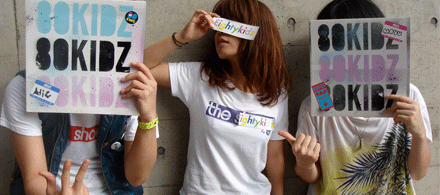 Tokyo-based DJ trio 80Kidz have accomplished a heck of a lot since forming in 2007, easily justifying their rising status in the world of electronic music.
They've shared local stages with the likes of Justice, Busy P, Boys Noize, Teenage Bad Girl, and Hot Chip. They've also remixed a slew of acts including CSS, MGMT, and The Black Kids.
They recently unveiled their full-length debut, "This is my Shit," and have booked a short June Japan jaunt in support of it to get them primed up for their Fuji Rock Festival set on Saturday, July 25.
Before getting bottoms bouncing in Japanese clubs they will try their luck with international audiences. 80Kidz have been tapped to play the "100% Genki" tour and will visit England along with De De Mouse, Riddim Saunter, and Tucker for six gigs later this month. Full details on the shows can be found here.
The Shoes, who provide guest vocals on "This is my Shit," are playing on the same day as 80Kidz. Perhaps the two will collaborate live on stage at the fest?
80Kidz MySpace is here.
Review of "This is my Shit" from The Japan Times here.
Shawn