More Dub and Reggae Vibes at This Year's Fest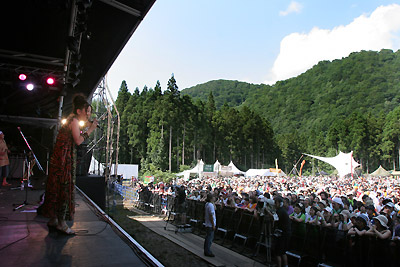 Will Likkle Mai's name be included in the next wave of new artists for FRF' 09? According to her MySpace site it will be.

Although it hasn't been officially announced to the public by FRF organizers yet, Mai's MySpace lists her as playing at FRF '09 on both July 24 and July 25.
Formerly the vocalist for Japanese dub act Dry&Heavy, Mai parted ways with the group in 2005 to focus on a solo career. In 2006 she released her debut album, "Roots Candy," and played both Fuji Rock and the Rising Sun Rock Festival that summer in support of it. Her last full-length effort was 2007's "MW." She recently issued a new 7" of her pop-accented reggae stylings called "Come Together For I & I."
Likkle Mai's MySpace site is here.
Photos from her 2006 Fuji Rock appearance are here and a short review of her set is here.
Shawn
*Photo of Likkle Mai by Miyuki "Sam" Samata and used with permission of Fuji Rock Express '06