Lord of the Dance vs Naked Wizard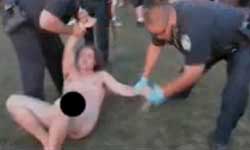 If you love music festivals and haven't seen this one yet, then check it: a crazy with dude get little overwhelmed by the party decide to pull out a SMAP and get his cloths off. Just one minor problem this time, the scene is from last edition of Coachella Festival in California and the cops don't take it lightly when the unfortunate nudist refuses to dress up.
*WARNING although the main actor is specially under-equipped to impress, the video is somewhat NSFW. A censure version with a huge black dot covering the offending bits and pieces is available after the jump.
Japan being one of the coolest places on earth, I'm sure most of the security guys will never get that far with a problematic partygoers at Fuji Rock. However lets remind the Naked Wizard lesson. Just to make sure, better keep your best behavior at the festival and beware of the big US army guys if they ask you to hide your privates.

Sebastien