Expect new stuff from Simian Mobile Disco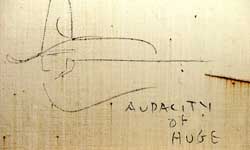 Two years ago, the English duo of DJ rocked the Red Marquee. This summer the two James are back in Japan for Fuji Rock and you better be prepared to dance non-stop if you come over watch them. The band from London might also bring along few surprises and give the chances to our fellow Fujirockers the chance to ear few of their new tracks.
Back in 2007, Simian Mobile Disco first album Attack Sustain Release was a major hit on the dance charts. Since then, they did some mix compilations here and their and few remix for artist such as Air, CSS, The Kills, Peaches and the Rapture. Recently, the band announced the release of their second album due on middle of August. The album is said to feature collaboration with different artists such as Beth Ditto, Gruff Rhys from Super Furry Animals, Chris Keating and Alexis Taylor from Hot Chip. Some tracks are already started to appear on some online blog with video of "Synthesise" and "10000 Horses Can't Be Wrong" and more recently the single Audacity of Huge. Enjoy bellow will waiting for their big night at Red Marquee.
listen to new track, thx to Welike it Indie

"Audacity Of Huge (Naum Gabo remix)"
"Audacity Of Huge"
You want more info about Simian? Read their interview with Uh Oh Disco or with Pitchfrok.
Sebastien