Summer Sonic Spreading?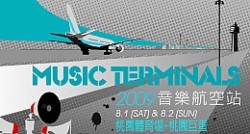 Nine Inch Nails, Linkin Park, and Mew will invade the Taipei area in early August with huge, arena sized shows. Meanwhile, Placebo and a host of smaller acts will band together for the newly inaugurated Music Terminals Festival. What do all these bands have in common? They are all performing at this year's Summer Sonic.
Previously, Taipei audiences could expect1 or 2 Fuji Rock performers (Moby, Super Furry Animals, Lisa Loeb) to stop over at Taipei's longer running Formoz Festival. However, Formoz went on a one-year hiatus due to construction work on the festival's preferred venue – a children's park in central Taipei- potentially opening the door for rival promoters.
Aside from sharing bands, Music Terminals is also mimicking the Summer Sonic layout, renting both a stadium and a nearby arena, albeit 45 minutes away from downtown Taipei, but just a short skip from the Taoyuan International Airport (hence the name of the festival). Of course the festival is not a complete copycat, organizers have even gone out of their way to say as much on their website. One programmer lives in Melbourne, explaining the inclusion of bands such as Frente, Mick Turner (Dirty 3), Cuba is Japan. And a ticket surcharge of roughly US$20 gives one the privilege of all-you-can-drink-beer throughout the festival!
Click here for more about Music Terminals
//sean s.