Weezer Will Help Make Fuji Rock Even Greener!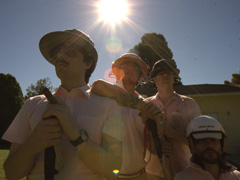 Weezer's Sunday night Green Stage headlining slot could help strengthen all of the festival site's beautiful, lush plant life.
Apparently two American students did an experiment with plant seeds and music. They played Weezer and Eminem songs to see which helped the plants grow. The Weezer plants did much better than the Enimem ones. There's an article about it here.
As Jeff mentioned in his post on Weezer, the band have played Summer Sonic several times in the past. If they had of been coming to Fuji instead just think about how much bigger and stronger the trees would be at the already stunning Naeba Ski Resort.
Weezer's MySpace is here.
Shawn