Goodbye Killers, Hello Weller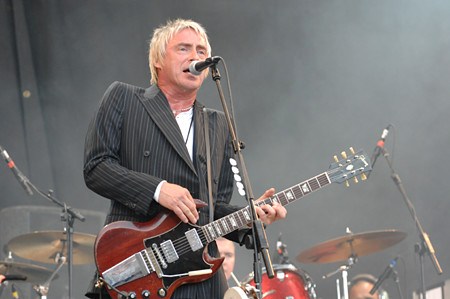 Replacing The Killers on Friday night is the "Modfather" himself, Mr. Paul Weller.
Obviously well known for his work with influential, legendary rockers The Jam and with The Style Council, Weller's been no slouch as a solo musician. The 2009 British Male Solo Artist BRIT Award Winner (he beat out Ian Brown and Streets), Weller is on tour behind his ninth disc, last year's 22 Dreams. He'll play on Friday, July 24 on the Green Stage just prior to Oasis.
Weller played lead guitar and sang back up vocals on Oasis' 1996 hit "Champagne Supernova." Weller and Oasis were both on the same concert bill at V-Fest in Toronto last September and there were rumours that Weller was going to join the band for the song. An attack on Noel Gallagher during the show changed things and squashed any chance of the two performing together at that event. It's highly unlikely anyone within the wonderfully chilled out confines of Naeba Ski Resort is going to try and take Noel out so perhaps the two acts will join forces on the Green Stage?
Japan has a big mod scene and seeing as how The Jam were at the forefront of the mod revival movement, Weller's addition to this summer's FRF is bound to make more than a few locals happy. Although it'll likely be too hot (and possibly wet) to be dressed to the nines (although you never know with a festival crowd), keep your eyes peeled for packs of Vespa scooters in the parking lot outside the main gates.
2008 Mojo Outstanding Contribution to Music Award Winner - Paul Weller Acceptance Speech

Paul Weller's MySpace is here.
Paul Weller on Wikipedia here.
Photos of Paul Weller performing at Glastonbury '07 are here.
Shawn
* Photo by Ryota Mori and used with permission of Smashing Mag