aka Rhythm X, aka Dr. Octagon, aka Dr. Dooom, aka Mr. Gerbik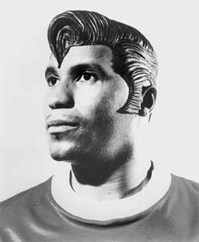 News flash: This ain't Fuji, but anyone who likes their hip-hop real and surreal, Kool Keith is in Tokyo tonight ...
For ANYTHING GOES vol.3 at Le Baron in Aoyama, VERBAL is presenting as a special guest Kool Keith. La Baron would be as good a location in Tokyo to witness ironic hip-hop excess at its best, and I have no idea what kind of crowd would make it out for Dr. Octagon, but must be worth checking. If someone makes it, please report.
-- Donald
Full listing of the eve:
Special Guest : KOOL KEITH
Special Guest DJ : Kutmasta Kurt
DJ's (A to Z) :
B!NGO aka DJ F.Y.S.
ITOOO (eyeTOKYO)
KIRI (REVOLVER)
MADEMOISELLE YULIA
PELI
VERBAL
YOON
Open:21:00