Beyond the Bands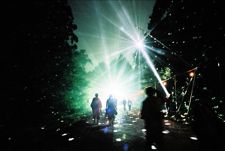 Any Fujirock veteran will tell you that the fest is more than just live music. Each year the organizers make an effort to provide enough stimuli to give the boys and their guitars some competition. Here are a three new additions to this year's spectacle.
#1) Keep your eyes peeled for a massive kaleidoscope. If what I was told is to be believed, it's as large as taxi.
#2) Phil has already explained the Cafe de Paris area out beyond the Orange Court. Nearby you'll also find the 78rpm record shack, a spot dedicated to spinning old-school 10" records on a Gramophone.
#3) For a more modern take on spinning wax, look for the "One-man-disco booth." As it was described to me, there is a phone booth-sized dance floor, complete with its own dedicated DJ, bouncer and velvet rope to keep the cue in check. A regular at Glastonbury, this club-for-one functions quite similarly to a real club: if a VIP shows up, the bouncer bumps him or her to the front of the line.