Sideshows!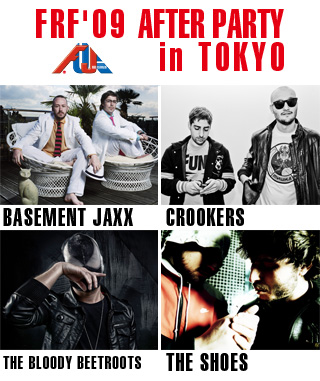 Party time starts early and finishes late!

One of the worst things about Fuji Rock is that a lot of you can't go. Even members of our team vary year to year as some of us can't get the time off. Kern and Dave were missed last year due to conflicting schedules. And then there's the Tokyo-centric nature of the whole touring scene. But the saving grace is all of the sideshows that mean you don't have to miss out altogether, and over time a lot of these guys get to the smaller parts of the country as well.
Starting this list, let's look at the Official after party at Warehouse 702. This will see Basement Jaxx spinning a DJ set, with Crookers, The Bloody Beetroots, and The Shoes all up to the task the day after the festival finishes. Get in fast, as this one usually sells out in advance.
Thursday night on the eve of the festival, catch the Funky Meters at Shibuya Ax from 7pm.
ASA-CHANG & 巡礼 do duty at Club Metro in Kyoto on Sept 7.
See Comeback My Daughters at Unit in Daikanyama on Sept 26th.
According to my sources, De De Mouse will play at Liquidroom in Ebisu on September 27th, though I can't find any official link to give you.
Yokohama outfit (and faves of Jeff) Asparagus head the BKTS tour of Osaka (Oct 12), Hokkaido (Oct 24), and Tokyo (Nov 1), along with Comeback My Daughters, The Band Apart, and Lostage.
I'm led to believe that Franz Ferdinnd will play three dates across Japan in early November.
And finally, The Birthday play Yokohama on Oct 18, Chiba on Nov 21 and Tokyo on Nov 27.
Former FujiRock artists playing around town over the next few months include Boom Boom Satellites on July 28th at Shibuya O-East, Kasabian playing in Shibuya on Aug 8 (sold out, sorry!), Flower Travellin Band in Osaka on August 26, Ken Yokoyama in Sapporo (Aug 13) and Osaka (Aug 27), Frontier Backyard playing nearly every city in Japan during September and October, and Bloc Party doing a slew of dates in November.
So if you miss(ed) them at FRF this year (or years past) get your arse down to their local gigs!
Dom.