FRF Staff Picks: Dave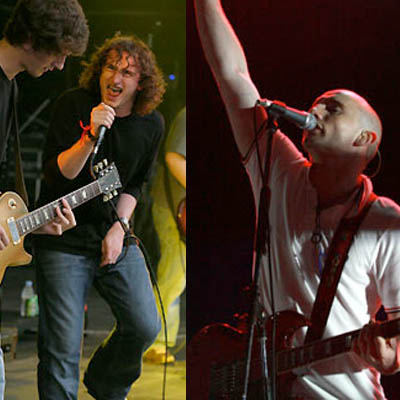 WHO NEEDS A BONK ON THE NOB? Rob Harvey, lead singer of The Music at FRF05 (left) or at FRF08 (right).
Last year in Taipei before a show by The Musik, the well known Britband, lead singer Rob Harvey walked up to me and asked about the Taiwanese opening band. I had some vague idea that he was with the band, but otherwise couldn't place him. We had a short, polite conversation, but at the same time, I was having inklings of deja vu. It was only later that I realized I'd seen him somewhere before...
It was about 5am, August 31, 2005 at the Palace of Wonder. Maybe it was closer to six At that time, he had a much wilder mien, and apparently was having a disagreement with a rather slight Japanese fellow, enough so that everyone for 50 meters around couldn't help but notice. The incident was recorded under the quotes of the festival section of a Japan Times article, for which I was the (till now) anonymous source, as follows:
"I love acid too much" -- an unnamed, tattooed Japanese man, when asked why he punched The Music's vocalist, Rob Harvey, in the face during the regular early morning after-party at Palace of Wonder. The punch cut Harvey's face.
Ahhh, the Palace of Wonder. Yes, that is my FRF Staff Pick. Even though it has practically become a mainstream stage -- I seriously have no idea how Takyuu Ishino and Diplo can be scheduled for a tent that holds only 250 people Saturday latenight -- it is still a magical place, a place where anything can happen. Once, a group of Japanese girls there even believed that I was one of the Chemical Brothers. But that's a totally different story...
//dave