A clue about who is playing Thursday night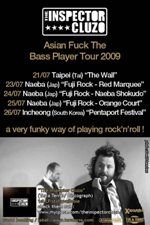 If you look at the fine print on this flyer, and past the Taipei date, you will see a very big clue about who is playing Fuji Rock's Thursday night party.
I, for one, think it's a great choice because they are loud and rock out! Start listening to The Inspector Cluzo now as they bring rollicking funking madness without no damn bass player!
If you wanna start prepping, I mean timing your jumps, handclaps, whatnot, click on the video below to see what I am talking about. You can also check out their myspace to learn more about this French duo (they also got Thursday at Fuji Rock listed here as well).
//sean s.