Play it, Steve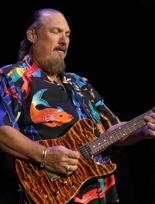 It's been reported that Steve Cropper, legendary guitarist and songwriter/producer for Otis Redding and everybody else who passed through the Stax Records legend-making machine in the 60s, will join the tribute on Sat. night to Kiyoshiro Imawano. That makes two MGs in the house.
As it happens Cropper is in Japan right now with the Blues Brothers Band doing the rounds of the Billboard Live clubs, and apparently Smash boss Masa Hidaka extended a special invitation to extend his sojourn here so that he could pay his respects to his old friend in the only way that really matters. Kiyoshiro always talked about the debt he owed to the Memphis/Stax sound. He once hosted a documentary about Memphis for NHK, and, of course, he hired Booker T and the MGs, of which Cropper was a charter member, along with the Memphis Horns as his backing band on one of his arena tours in the early 1990s. In fact, one of the last live appearances that Kiyoshiro made in the past few years was at a Blues Brothers concert at the Blue Note, where he showed up and sang a few soul covers for old times sake.
Of course, Booker T is already slated to participate in the tribute, and will be fronting his own band later that night as the headliner at the Orange Court. It ain't the MGs, but it certainly isn't far-fetched to imagine Cropper showing up on stage for the gig. It would be way too much to expect Duck Dunn to also show up (but wasn't he in the Blues Brothers band, too, at one point?) and, of course, Al Jackson died in 1975, but two MGs is better than one and, who knows? Maybe some of the Funky Meters will wander over after their headlining set at the Field of Heaven for a bit of a jam. Considering the lucky miracle of Steve Cropper being in the vicinity for just such an occasion, you're allowed to dream a little bigger.
-Phil