Martha to the Bone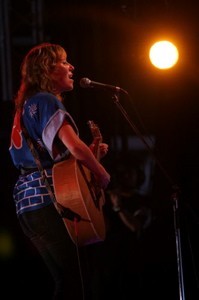 The after-lunch crowd who took in Martha Wainwright's solo acoustic performance at the Red Marquee on Friday didn't seem to know what hit them, though one young woman took the opportunity to declare her love out loud whilst the Canadian singer-songwriter was retuning her guitar. "Will you marry me?" the young woman screamed. "Uh, OK," Wainwright said with total lack of sarcasm. "Do we have to have sex?"
Known famously as the daughter of Loudon Wainwright III and Kate McGarrigle and the sister of Rufus Wainwright, and infamously as the composer of the enigmatic "Bloody Motherfucking Asshole," Wainwright's frank emotionalism was not at all diminished on stage. Dressed in a half-yukata, very tight jeans, and slivery high heels, she disavowed any folkie image her pedigree and the chosen means of her art might lend her. Though songs like "Factory" and "Far Away" are about the inevitability of growing away from loved ones, she swung her hips sexily to the rhythms, melding the personal and physical in ways that can only be experienced directly in order to be properly understood. The audience was moved by her sensual honesty, realized in a voice that very much sounded like it was coming from someone who once studied acting but quit because acting could never compete with the pain of real life.
"This is a song about a man's balls and penis," she said matter-of-factly to introduce the raunchy, self-lacerating confessional "Ball and Chain." Appropriately or not, a different young woman actually fainted during one of the quieter but by no means less intense numbers. "Is she OK?" she said, almost sang, without dropping a note. To finish off, she sang a chanson by the late French singer Barbara with all the rabid fury of a woman who couldn't stand the way she loved a man who didn't deserve her. Maybe the audience understood nothing of what she said (Though they did seem to grok "bloody motherfucking asshole"), but they got Martha Wainwright to the bone.