Wolfmotherearth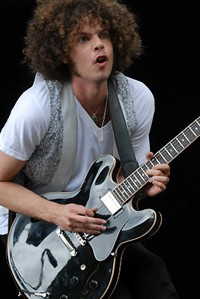 Australia's retro-hard rock power trio Wolfmother was the ideal band to open the Green Stage on the second day. The group's blend of Zep-like blues power chords and sixties proto-psychedelia (as translated by Jack White) is a guarantee to pull all the jokers who drank too much the day before back on their feet, at least until they gather their wits about them enough to consider breakfast (and a lot of water--those hangovers can be extra worrying in a camping environment). The threesome opened with "Dimension," their most well-known song, and inserted a new line about "finding myself at Mt. Fuji." This is what's known as the Patti Smith problem--artists who think that because they are playing a festival called Fuji Rock that the hill in front of them is actually Mt. Fuji. Later, singer-guitarist Andrew Stockdale confirmed his lack of geographical wherewithal by asking the crowd, in classic rock-performer rhetorical style, "Can we jam at Mt. Fuji?" Hey, be my guest. But it's a bit of a bus ride.
However, the main faux pas was in the fashion department. Bassist Chris Ross wore a burgundy--yes, BURGUNDY!--jacket whose only purpose considering the mild weather was something to shed after the second song. Stockdale kept his monochrome paisley vest on, but considering the size of his afro it didn't stand out that much. Suffice it to say that Wolfmother is as much into stage performance cliches as they are into guitar riffs based on rapid repeated three-note phrases. The band only played five songs by my count, which isn't unusual given that their slot was only 45 minutes and 70s hard rock tends to be, shall we say, expansive. But on their debut album, most of the songs are less than five minutes. At the Green Stage it was all long intros and codas, and despite the stated intention to jam, most of what they did was atmosphere-making: organ squelches, non-digital guitar effects (rubbing the strings against the amp), egging the crowd on.
The hard rock moments made their point, and one has to hand it to Stockdale for stating the obvious. "We want to dedicate this next song to Mother Earth," he said before they played "Woman." "Let's hope it doesn't take up too much voltage and warm up the planet." Now there's a 70s cliche you don't hear every day.