Throw Your Hands In The Air For Mo'some Tonebender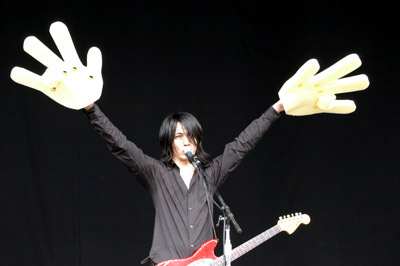 Many bands have asked the audience to put their hands in the air thus far this weekend. Instead of making the same tired request, Mo'some Tonebender singer and guitarist Kazuhiro Momo decided to lead by example.
Emerging on stage for his band's lunchtime performance on the Green Stage, Momo raised his arms to show off the two large foam hands that he was wearing. Waving them from side to side, the mass of bodies gathered near the front of the stage followed suit.
Dressed entirely in black, the trio of Momo, bassist Yasunori Takei, and drummer Isamu Fujita had little trouble getting the early afternoon crowd moving with a set of loud rock n' roll. Momo screamed "wake up!" as the Fukuoka band kicked into their opening number. A very charismatic individual, Momo danced across the stage and stuck out his tongue while playing. Not wanting to be shown up right from the start, Takei swung his bass over his shoulder and did a bit of two-stepping of his own during the intro to Mo'some's new single "You Are Rock N' Roll." Momo won the battle though by shaking his hair wildly and smiling as his vocals burst out of the massive speakers surrounding Fuji's largest area. It didn't hurt that he eventually tossed the foam hands and his sunglasses into the crowd allowing select spectators to leave with some cool souvenirs.
With a solid back catalogue of catchy, hard rock songs to draw from, the group had little trouble keeping attendees entertained during their 45 minute gig. "You Are Rock N' Roll" is the perfect way to describe Mo'some. Raw energy combined with polished musicianship formed a lethal combination this afternoon. Having been around since 1997 and releasing music since '99, if the group continues to create such great music they could find themselves being promoted to one of the later, higher profile slots on the Green Stage in the future.

Shawn