Like minded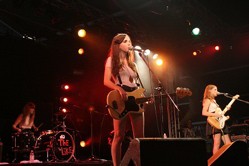 The all-female, Los Angeles-based power trio The Like got one of those unearned rain bonuses. Their 3:40 pm slot at the Red Marquee coincided with the first of several late afternoon downpours so the venue was packed. If the reaction to the group's dream pop was muted, it had nothing to do with the quality of the songs (pretty excellent) or the performance (professional if somewhat subdued), but rather to the fact that the back half of the Marquee was filled with people dozing on the ground. As more people crowded in to escape the rain, these supine forms turned into an obstacle course.
The young women didn't seem to mind, and, in fact, they still give off such an acute feeling of greenness that they were probably self-consious about other things. "Somebody told me to say 'konnichi wa wa'," giggled lead singer-guitarist Z. Berg, "if that means anything." Later, while Berg was tuning, bassist Charlotte Froom attempted to connect with the audience on her own. "It's our first time in Japan," she began before getting cut off by Berg. "I already told them that, Charlotte." "Sorry," the bassist said, crestfallen.
The music conveys its own adolescent female awkwardness, and that's meant as a compliment. A canny combination of Bangles-like strum and Sundays-like soaring melodies, Berg's songs certainly fill a void at the moment. If they didn't quite fill the Marquee, it's because Berg's soft soprano, a heartbreaker on record, can't quite rise above the phase-shifted drone of her guitar. Still, several songs, especially the rave-up "Far and Away" and the Top 40-ready "Under the Paving Stones" got heads nodding and hips swaying. It should probably be noted that all three members are daughters of LA rock royalty (drummer Tennessee Thomas belongs to Elvis Costello drummer Pete Thomas, Froom is producer Mitchell Froom's progeny, and Berg's father is influential A&R man Tony Berg), and while such a pedigree certainly helped them with their record contracts, we assume it was constant exposure to good music that produced such assured pop skills. "We're playing at Quattro on Tuesday night," Froom said in her second more successful attempt at audience connection. "Let' hang out, buy some socks."