Into the Woods: iLL do it naturally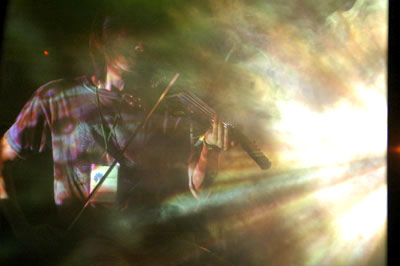 2006 marks the first year at FujiRock where the concerts on the Boardwalk between White Stage and Orange court were announced ahead of time, but most people still looked stunned when they ran across a performance tucked into the woods. A scrim was placed in front of the stage, with projectors and lasers creating fractal patterns on the screen and beyond into the woods.
Playing was iLL, a new project from Katsui Yuji of Rovo and Nakamura Kaji of now defunct J-rock band, Supercar. Katsui has been on the Tokyo music scene for years, and those who love him for his work with Rovo know half the story. While the sound of his signature electric violin cannot be mistaken, the music he places over it changes constantly. Punk, folk, metal, classical − he can draw it out of his strings. Today's set was a completely subdued ambience to match the location. Geometric projections dance across his bow and into the forest as Nakamura prodded a sampler for the sounds of birds and water.
Katsui's violin reminds me of bird of prey − not always on key, but somehow ancient and engaging. He's a master of effects as well, bringing in layers of loops of himself into a vortex of sound. Here at the boardwalk, though, he kept it simple, which was a breath of fresh air compared to the bombast of the major stages. The music was a perfect backdrop for a surreal walk through the woods. What made it even more dream-like was the constant stream of people walking past. Their silhouettes strolling across the illuminated scrim gave a more interactive feel, like a Brian Eno media project. Many didn't realize what they were passing till they arrived in front of it, then decided to step off the path and sit between the trees and stare for a while.