Zukunashi - A Little Soul Never Hurt Anyone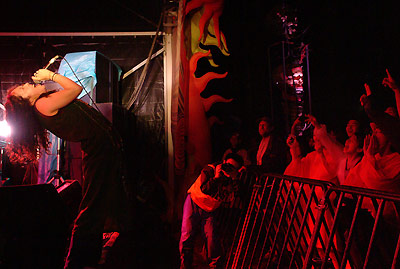 Having the good fortune of opening the Rookie-a-Go-Go Stage on Saturday night meant that Zukunashi got to play to those looking to duck out of the massive post-RHCP flood of people leaving the festival site.
With a good-sized crowd gathered in front of the colourful, uniquely designed stage, the female quartet wasted little time winning over new fans.
Playing a hybrid of funk, soul, and jazz, the girls put on a great half-hour set that differed from most of the festival fare I've personally come across this weekend. Guitarist and vocalist Emi has a fantastic voice and really belt out her lyrics, using her remarkable vocal range to fill all corners of the outdoor area at Palace Of Wonder. An animated frontwoman, she shook her finger at the crowd, clapped her hands, and danced around with a giant smile while singing her soulful lyrics. Her bandmates were no slouches either. Bassist Mariko and keyboardist Rie provided great back-up vocals and each grooved along to the music. Akane was hidden behind her drums, but still did a good job of providing a slew of funky beats.
Showcasing half a dozen uplifting tracks, Zukunashi had most of the spectators swaying along to the music and full out dancing by the end of their gig. People raised their hands and cheered as Emi hit really high notes or took her loud, crystal clear voice down really low. Looks like a little soul really does go a long way.