Denki Groove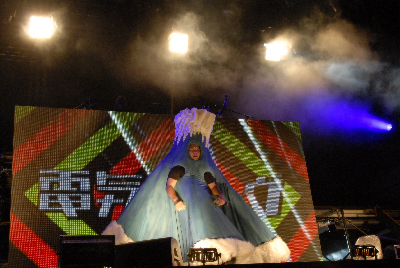 In the last few years, FRF has consistently slotted big time electronica acts as big stage Saturday night headliners, and following the Fatboy Slim and the Chemical Brothers in the last two years, Japan's own Denki Groove showed why this year they aren't playing second turntable to anyone.
The set started for me when the J-staff in the Fujirockers.org computer tent rushed out en masse in the middle of the duo's first song. Never underestimate the home court factor. The Green Stage was packed back to the treeline all evening Saturday, they had the beats to carry it, and the crowd was loving it.
The Denki team of DJ Takkyu Ishino and graphics 'n sounds whiz Pierre Maki were, like Fatboy Slim and Chemical Brothers, perched atop a huge center-stage control console, and the minor interest of a couple guys twisting knobs and hitting sliders aside, the visuals were all on the big screens. Their console was sitting on top of one screen the same size as the two flanking the stage, which gives you some idea of how high their DJ booth was. The tunes were their hallmark techno-pop, which, as they proudly admit, tries to be both as techno and as pop as conceivably possible.
For you 'maniacs', here's the set list:
N.O.
シャングリラ
ヴォルケイニック・ドラムビーツ
かっこいいジャンパー
スマイレススマイル
あすなろサンシャイン
レアクティオーン
富士山 (Fuji-san)
虹
But what was really great to see was Takkyu Ishino shifting gears from the 15,000-20,000 at the Green Stage to an unannounced gig in front of a couple hundred at Purple Haze only a couple hours later around midnight - the Denki Groove set finished up around 9pm. Got to give props to the man for keepin it real.