He's a peaceful monster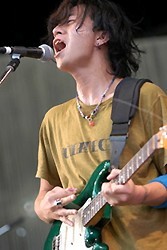 The sun was shining brightly on the Field of Heaven at 11:30 am when Razoku took the stage in front of a respectable crowd. Heaven tends to have a permanent contingent that's content in the belief that anyone booked there will be to their taste. A look at the list of bands who have officially allowed tapers to record their show (there's a Tapers Area right nest to the sound booth) confirms which bands adhere most closely to the jam band protocol: String Cheese, Umphrey's McGee, Benevento/Russo, Magnolia, and Razoku.
Razoku, three guys from the Shonan Beach-Fujisawa area, do think of themselves as a jam band, and their motto is "peaceful rock." We presume "peaceful" in this case refers to the group's political bent, not their volume level, because from the very first note of their opening song, "Jan-Ken-Pon," it was obvious Rakuzo is a very loud band. For forty minutes the trio never paused once, running songs into one another mainly through lead singer/guitarist Ryuta Koshino's imaginative fills. Rakuzo is a jam band in the way bands were before there was a term "jam band." Think of the Jimi Hendrix Experiece. Ryuta is no way near as skilled, but the idea that you have a song in which you insert a solo isn't his. It' all organic. Rakuzo shifted from standard west coast rock of the Neil Young persuasion to full-on funk, and then back again. The crowd, needless to say, dug it completely. His singing has that shrill artlessness that a lot of skinny Japanese guys adopt to project feeling, and the effect, at least to my ears, was amusing. "He's a monster," he kept screaming during one extended funk workout. I'm sure that's not what he was saying, but it made perfect sense at the time.