Mumm-Ra, RA-ther good.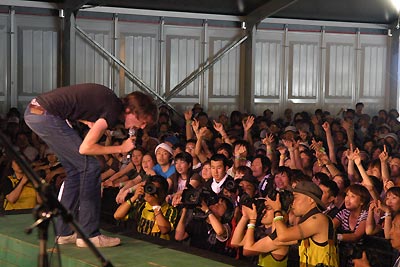 Named for a cartoon character, Mumm-Ra are on their first overseas jaunt as a band. They have been creeping onto the scene and the airwaves for a short while, however this group of 20-odd-year-olds have been playing together for five years now.
James New (Noo to his friends, and that probably means you) is the band's energy, and he has a sense of humor about this it appears: the shirt he donned today read simply "JUMP". He bounds around on stage, sometimes picking up an acoustic guitar, on other tracks doing keyboard duties, hovering between the keyboard and a mic three paces away. This is when he is at his best; head thrashing as he playsand looking near deranged. These guys take pleasure in taking the banal and making it into interesting music. Songs about a "very very vicious game of monopoly" are the order of the day. Others about a daydream, it appears that to these guys, the glass is definately half full. Their songs often start out slowly, building into great things, sometimes big & noisy, other times simply picking up the pace as they move along. 'Now or Never' was an early number that got the crowd moving along, "There She Is" saw some nice electric grooves. The rest of the band rarely graduates beyond head swaying, with the occasional layback from Tate on Guitar. They seem quite ensconsed in what they are doing. "She's Got You High" came next, another song with a huge finish.
Guitarist Oli sang on a track which started out as a passinate piano led number, slowly building into a huge crescendo of synth madness from Noo. Drommer Gareth has his work cut out for him. Noo followed this with an acoustic guitar solo, playing "Light Up This Room" for the first time in a public show. This was a nice piece, and remained on a steady level throughout. Two tracks rounded out the performance, "Song B", a crazy number from start to finish which had the crowd loving it, and finishing with "Out Of The Question", an upbeat radio friendly track that was a fitting end to a good show. Noo moved froward and offstage, right up to the crowd to thank them personally, getting a great reaction from the guys in the front rows.
Watch out for these guys. As long as there are horrendously boring thins to turn into great music, they'll be doing it!

Report by Dom