Double Famous - a trip to the tropics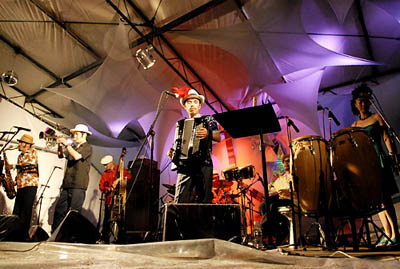 The only thing missing from this show was sunshine. Not that it was raining, it's just that it night had already fallen. And the Afro-Cuban music that this band plays emotes breezy beaches and palm trees. Oh well. At least the stage at Gypsie Avalon is hugged by trees.
Double Famous number 11 members - sax, trumpet and trombone, accordian, guitar, electric double bass, drums, congas and bongos (acoustic and electric). Even just the line up of instruments should give you a good idea of the range of songs they play. But, more specifically, they cover all the sub-genres that form the roots of African and Latin music - from cumbia to calypso and on up through the pecking order of ages to encompass samba and rumba and a little cha-cha-cha.
Only the conga player is female - and she wore a slinky emerald green dress with one strap and a fake tat on the other arm. She and the bongo player also wore shades, evoking the presence of sunshine. And the rest of the lads wore variations on the theme of Panama hats and leisure shirts and pencil-thin mustaches and side burns (though I suspect the use of magic marker on some of the more flamboyant Dali-esque ones).
The audience area was not crowded, but was rather a gathering of several dozen hardcore fans. Even while the accordian player was still in the process of doing his sound check, two girls at the front were dancing - doing slow twirls and pirouettes as the lethargic strains and sometimes eerie strains of music that filled the air. And these girls in particular went full tilt once the band started their set for real. They were stomping and jumping in muddy area in front of stage - so much so that bass player asked them gently to please be careful. And they were. But everyone was at least jogging on the spot when hit their up-tempo numbers.
Mud puddles aside, it was almost like a trip to the tropics...

Reported by sisterchill