Sun Paolo - Electro rock from the sun god...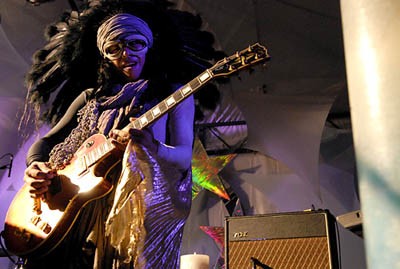 I first met Taiji Sato, former member of Japanese band Theatre Brook, four or five years ago right here at the Fuji Rock Festival. He told me then that he had just started a new band called Sun Paolo. A couple of years later I acquired a copy of their sample CD which was hard to categorize musically. The best I can do is: jazz-meets-rock on the edge of minimalism. Now all i can say now is: they've come a long way.
I will admit to dragging my feet as I made my way over to Gypsie Avalon to catch their set. But if i hadn't I would have missed one of this year's best experiences - personally, that is. They rocked. And they grooved. Their sound has meshed. And now obviously belongs in the electro -rock genre.
The stage was lit minimally with only a half dozen large candles flickering here and there - and it remained this way throughout their set. Sun Paolo is a three-piece, with Sato leading on guitar, one of the other two manning drums and the other keyboards and effector.
Sato was dressed in a huge headdress which looked like a cross between an American Indian get-up and something from an Aztec religious ritual - the latter especially compounded by the fact that he had gold inserts of cloth sewn in under his arms so that when he raised them he appeared to be wearing a cape. To top this off he had also donned a pair of white goggles.
The keyboardist was wearing a strange striped balaclava with an equally strange dreadlock type extension hanging so that it fell down in front of his face (it might have actually been real hair but with the minimal lighting it was impossible for me to tell). The drummer was wearing old-style aviator's head gear and khakis. All in all: freaky styley.
And then they started playing. A tight driving rhythm section held the pace as Sato added guitar licks, replete with feedback and lots of effects. The sample for the second song sounded a bit reminiscent of "Tainted Love" by Soft Cell, but, hey, who knows. All of their songs were heavily layered with meaningful input from all three, but the basic elements were an electro base with live instrumentation over the top.
The audience loved it. I have never seen Avalon so packed, Not only that, but it became increasingly more packed the longer they played. AND everyone was dancing - right from the get go. Sato himself was impressed and thanked everyone - most sincerely - for doing so after the first song. I think he was a little bit blown away by it. But actually, Sun Paolo has hit on a great formula - the club beat at the base keeps people dancing and the live input gets them howling.

Reported by sisterchill