The Super Furry Animals: Strokin' it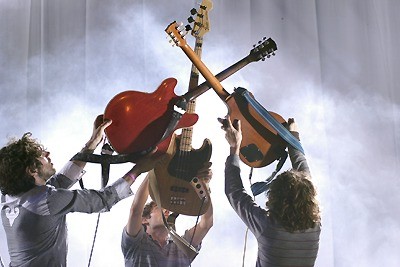 Welsh rock band Super Furry Animals were up against some stiff competition when they took to the White Stage here on the closing night of the festival. A schedule change meant that T-shirt faves and New York City hipsters The Strokes were to hit the Green Stage more than an hour early, and the two bands would be playing at the same time. Regardless, the White Stage area was packed out with fans when they started.
No stranger to costumes, front man Gruff Rhys started the show wearing a Power Rangers type helmet, haunting center stage with his guitar during the first song, until he wound up behind the keyboards, eerily repeating "Domo arigato" into an effects box so it came out low and distorted, much to the crowd's approval.
With a setlist comprising a sampling of songs from their most popular albums, SFA kept the crowd going without to much banter. Mid-way through the show, I was starting to wonder who in the crowd had come specifically for the Furries, and who hadn't known about the schedule change for The Strokes. One girl in front of me was decked out in Strokes gear, and I thought about sidling up to her to tell her they were playing already. Then the Furries launched into an energetic version of "Golden Retriever" from Phantom Power and she started jumping up and down with her hands in the air. I changed my mind.
They saved (as they usually do) the best for last. Amidst trippy atmospheric blue and purple lights, they segued into perennial fan favorite "The Man Don't Give A Fuck". By the time they got to the endlessly repeating refrain, "You know they don't give a fuck about anyone else...", the stage and the big screens to the side were showing black and white video clips of past dictators and the always hate-able George Dubbleyuh. In large letters they flashed "All governments are murderers and liars", over and over, interspersing it with the same in Japanese. The audience, still packed out and getting bigger, joined in the chant--happy at the political ideals, and well, happy just to shout the word "fuck".
Why not? Fuck. It was a fuckin' good show.
Jeff