Lisa Ono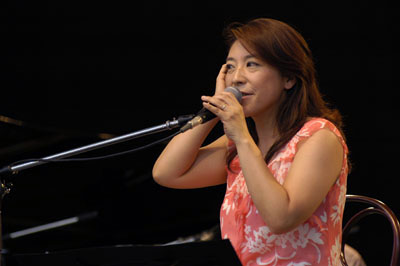 The Japanese Queen of Bossa Nova
It was just too sunny an afternoon for indie rock, so when Lisa Ono took the Orange Court stage at 3:20pm, even a particularly dour whisky-fiend rock photographer on our staff was drawn over, sort of like Golem was to the Ring. "I really like her,"he gurgled, still giving off fumes from the Palace of Wonder from earlier that morning. After all, this was the Japanese Queen of Bossa Nova.
In a pink and white sun dress, Ono sang sitting down, mostly in Portuguese and some English, and always with her gracious smile and a voice clear like a mountain stream and light like the wind in the trees, i.e. she sounds almost exactly like Astrud Gilberto. Hell, she grew up in Brazil, what would you expect? Van Halen?

Notes:
1) "Girl from Ipenema" was a bit of an interpretation. The notes were the same, but the tempo and spacing was her own. She played acoustic guitar on the tune, accompanied otherwise only by a very light touch on piano.
2) The four-piece backing band included drums, acoustic guitar, piano, electric bass, flute/alto sax and drums.
3) The sound was so light, you had to be towards the stage to hear well. At the back, she was barely audible. And even at the front, the helicopter tours that kept flying over would drown out the sound.