Finally some hot food.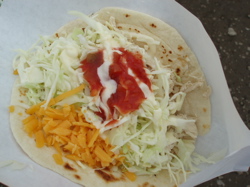 Although there is a ton of great food to be had at FRF each year, it's often difficult to find something that's hot. Long line-ups and working out of a small stall often result in food that's prepped beforehand and is kept warm for the starving masses.
That wasn't the case at the Crazy Taco booth. Located beside the Oasis entrance to Red Marquee, their tacos were so hot that I burned my mouth as I took my first giant bite. After ordering there 500 yen chicken taco I was given a soft taco shell overflowing with loads of chicken, cheese, cabbage, taco sauce, and some kind of white dressing. The chicken was a tad dry (maybe more dressing would have helped), but it was fantastic to have a hot meal.
The stand also sold beef tacos and taco rice. From the looks of things, though, there top seller seemed to be there 500 yen bottles of Corona.
Next year hopefully they add some burritos, enchiladas, and quesadillas and I'll have found a new favourite place to eat every day!