Chilling With The Gypsies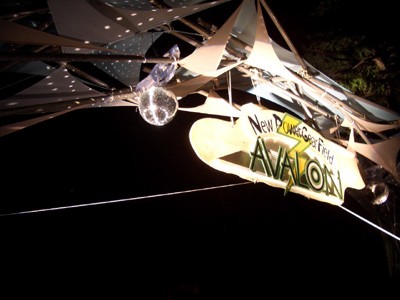 Ah... another year, another favourite place.
Last year I wrote that my favourite place at FRF was Field of Heaven at night. Heading up there to check out Rovo I quickly became enamoured with all of the elaborate candle displays, mirror balls, and giant glowing sculptures that were hidden in the trees.
This time around, my heart was captured by a neighbouring region − Gypsy Avalon. Located mere minutes from Heaven and the White Stage, Avalon is the perfect place to chill out and catch some unique, relaxed tunes. It's not as crowded as most other spots at the fest, has a food court beside it, and provides some of the best opportunities to catch an intimate performance - something that's not always easy to do at something as massive as FRF.

The stage itself is pretty small. Behind the performers is a large peace symbol and the area in front of the stage is covered with dozens of potted sunflowers. Avalon is surrounded by large trees and sits at the bottom of a small sloping hill. The hill is covered with grass and people usually sit or lie down on it during performances. It's not uncommon for someone to be blowing some bubbles. The small soapy spheres floating lazily down the hill fit in perfectly with the laidback vibe.
In 2005, Avalon only seemed to be partially full whenever I visited or passed it. This year it seemed to be packed almost every time. Definitely one of the cooler places to be, I'm thankful that I got to witness performances by Trashcan Sinatras, Kazumi Nikaido, and The Suzuki and discover the beauty and charm of the area.