So what the hell has Bootsy been up to anyway?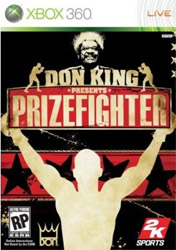 In a word: video games. That's right, the latest musical venture of Bootzilla, that cosmic brother, the Field Marshall of Funk, his Bootsyness, Caspar the Funky Ghost - hell ya'll, make up your own nickname, just as long as it's funky - was to create the theme song for the video game "Don King Presents: Prizefighter," now out on XBOX 360.
Here's what Bootsy told Billboard.com about the gig:
"Doing the game track was very exciting," Collins tells billboard.com. "It's for Don King, a hero of mine from way back, so I took it very personal when asked to get involved. I felt musically and vocally that this song would place you right in the middle of the game, in a front row seat. I told Mr. King, 'We gonna punch um! Just to make their hair stand straight. Then punch um again, to see the look on their face!'"
-dave