Big Opening In Sunday Night's Lineup Now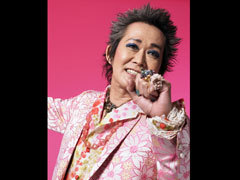 Well, it looks like Japanese frontman extraordinaire Iwamono Kiyoshiro has pulled out of his headline slot to close the festival on the Green stage Sunday evening, citing health concerns.
Kiyoshiro-san is one of Fuji Rock Festivals biggest repeat performers, and a crowd favorite. Many people were looking forward to closing the festival out to the energetic sounds of IMAWANO KIYOSHIRO & NICE MIDDLE with NEW BLUE DAY HORN plus NAKAIDO "CHABO" REIICHI (a mouthful to say the least, but eagerly awaited by many).
Fuji Rock's official announcement in English is here.
We wish him nothing but the best, and he will no doubt be asked back next year after some more rest.
Questions remain, though. With the Green Stage spot before him still TBA, this will only fuel the fire surrounding discussion on just who will be booked to close the 2008 Fuji Rock Festival.
Thoughts?
Jeff