Norway or my way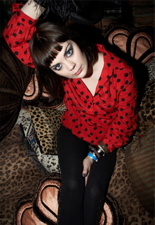 Ida Maria Sivertsen moved out of her small hometown in Norway at the age of 16 to try and make it as a rock singer-songwriter in Bergen, but apparently even the country's second biggest city wasn't stimulating enough and she relocated to Stockholm, where the energy level suited her temperament.
Actually, it's difficult to imagine any city containing, much less satisfying, Sivertsen's bustling personality. On "Queen of the World," which may be her statement of purpose from her debut album Fortress 'Round My Heart, the singer comments on her creative restlessness. "I bump into things," she sings happily in front of a double-time rhythm. "Oh God, why can't I stay like this?" She often invokes the Creator in her songs, which is unusual for a punk-leaning singer though not necessarily for one who grew up in Scandinavia. But God can be pretty human in her songs. On "Stella," He promises to give the titular prostitute "the world" if all she'll do is "hold me tight." Sivertsen doesn't elaborate on why He is particularly interested in this woman. It's enough that He is. Her songs are about the largeness of emotions, and whatever meaning one infers from her songs comes mainly from the way she inserts a hearty chuckle into a chorus or exaggerates the cigarette-coarsened huskiness of her voice.
Ridiculously generous with hooks, Fortress exemplifies the idea of pop as sudden inspiration, and the simple production takes full advantage of her spontaneity to the point where the band's rough edges are left unplaned. If her giddiness can sometimes get grating and her ballads too lyrically protracted, she manages to avoid repeating herself. With a certain kind of management she could conceivably be a pop star on the scale of Avril Lavigne, but it's hard to imagine Ida Maria sitting still long enough for any manager to take her measure, even God.
-Phil