The Gaslight Anthem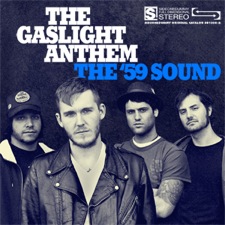 The Gaslight Anthem will probably be new to many in the Fuji Rock audience, but expect the band to leave a big, heartland rock impression.
This is the Jersey Shore sound for the new kids. Singer Brian Fallon sounds like a Darkness On The Edge Of Town Springsteen being channeled by the The Killers' Brandon Flowers during the Sam's Town recordings - only a lot tougher and all growed up. Or as Sobriquet Magazine described them:
"The Gaslight Anthem are like something out of speculative fiction: this is what pop music would be if Springsteen hadn't listened to his producer, let the Ramones record the song "Hungry Heart", and launched the C.B.G.B.'ers into megastardom."
Some thundering energetic roots rock will be a nice offset to the emo and sarcasm that will echo off many of the stages at this year's festival. With a vernacular steeped in heartland rock and Americana that rumbles out over the course of their two full length discs, Sink or Swim (2007) and The '59 Sound (2008), there just might be a few fans encouraged to prove it all night after a taste of something old made new again.
Jeff