Jeff Lang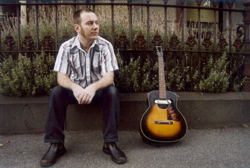 Slide Guitar King Of The World
Jeff Lang first bubbled to the surface of the Australian blues & roots scene in the early 90s. With his smoking slide guitar, he has become known the world over for his energetic performances and his finely crafted songs. He has played at more festivals than you can poke a stick at, and always puts on a definitely electric acoustic performance.
Purportedly never planning a set, Lang lets the energy of the audience drive the direction of his live shows. With a sizable catalog of original work to formulate a show, he's never one to shy away from a cover or two in his sets either, paying respect to his forebears. No wonder he can rely on his fans for the course his show will take. Since the days of inspiration as a teenager listening to his dad's record collection, he's been honing his skills and earning kudos at every turn. Name a player in the blues scene over the last 20 years, and you'll be hard pressed to find a name that Lang hasn't toured with, or at least played alongside. There's barely a weekend goes by in Melbourne that you won't see his name on a bill. Unless of course there's a festival to be played somewhere. Anywhere.
I don't think I could sum it up better than HD - Chart Magazine of Canada did a few years back, so I'll leave it to them.
"First, write some damn fine, rootsy story-songs and confessionals that easily locate the home truth. Smother the rocky ones in greasy, funky, groove-ass, electric slide slop. Color the folky ones with some evocative, deeply soulful acoustic slide. Play 'em as if you're a male Bonnie Raitt -- with some serious balls and flawless chops -- but twice as speedy and energetic. Play that thang so it cuts like a pearl-handled straight razor: Fast, clean, shiny and sharp, but always in service of the song. Congratulations! You're Jeff Lang . . . the new Slide Guitar King Of The World."
-- HD - Chart Magazine - Canada

Official site
Myspace
Short interview here
Dom.