Crying Nut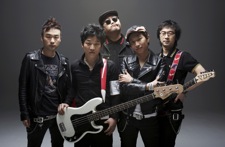 Korean punksters Crying Nut are stars in their homeland, and virtually unknown anywhere else. They are as big domestically as any screaming punk band can expect to be. Their debut album became the best-selling indie release in Korean chart history, and after a blip when they fulfilled their national service obligations, they stormed back with contributions to various punk compilations and a tribute album entitled 'Smells like Nirvana'. It came in a scratch 'n' sniff case that released the odour of Kurt Cobain. No, it didn't.
Other releases include 'The Cow of OK Pasture' and '조선펑크', which translates as 'ROK the Casbah'. No, it doesn't. Or it might do. Who knows.
On top of the usual guitar-bass-drum setup, they've got Kim Insoo adding some melodies with his keyboard and accordion, which seems to elevate the band above the rabble of noiseniks that you'll find in any live house.
At Fuji they'll be rocking the Red Marquee. They're known for their high-tempo shows (what punk band isn't?), so it should be worth a sniff.
I can't work out if he's shouting 'Thatcher', 'shachou' or 'dachou' in the clip below:
---
coglione